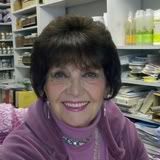 YOU CAN HAVE IT ALL!!!

SHAKLEE has given me everything I have ever dreamed of but thought I could never have because I only had a High School education.

I am now a property owner with three homes; I enjoy a great six-figure income; I have experienced first-class world travel; I have driven eleven free Lincoln Towne cars; and I have the freedom of being my own boss...it's FANTASTIC!!!

The most important benefit is the wonderful health I now experiece, as I was very ill when I found Shaklee and it's hard for me to realize that I am now 80...as I feel like I am maybe 40!!!!

My children and granddaughter have travelled to countries and have enjoyed the wonderful regal experiences that the Shaklee conventions provide.

With the New Anti-Aging Skin Care "Enfuselle" and VIVIX my appearance is at least 15 years younger... You can have it all and MORE

I WOULD LOVE TO SHOW YOU HOW!!!